Another look on skin cancer
2016, International
Spot the Dot lookbook
To start a conversation about skin cancer within the fashion industry and fashion journalism we created a lookbook with sunsafe fashion.
See the full lookbook here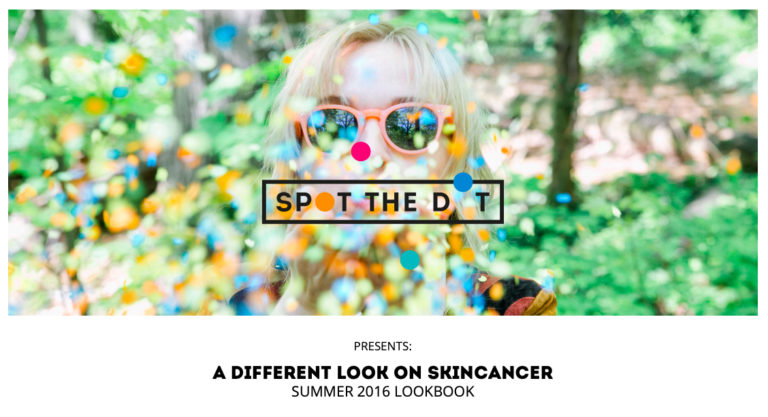 Motivation
"Summer is coming! We all can't wait to enjoy the first sun rays, spending time with our friends outside, feeling a summer breeze in our hair, going to music festivals, diving into the refreshing water on a hot day etc. The summer should be all about creating good memories and having a good time. But knowing that every year millions of people around the globe are diagnosed with skin cancer sends us a different message about spending time in the sun. It's proven that DNA damage by exposure to the Ultraviolet Rays from the sun increases the chance to get skin cancer. Should we get afraid, stay inside and wait until the summer is over? Or should we just have a different look on skin cancer together? Because why can't a sunsafe summer not be as much fun and just as beautiful?
I myself, am a Dutch woman, 32 years old and what looked like an innocent mole on my lower leg was actually a tumor and I got diagnosed with stage IV melanoma cancer 1,5 years ago. My life will never be the same but I refuse to give up on unforgettable and happy summers. I've learned that we still live in a world full of misunderstandings about skin cancer and that was my biggest motivation to start my skin cancer campaign Spot the Dot (www.spotthedot.org). Skin cancer does not only happen to people who have a pale skin, you don't only get a sunburn if you bake on a beach in Spain for half a day or if you're old. It happens to women like you and me. Also why can't pale be beautiful in times when we learn that the sun can even take lives? Is a tan worth risking your life for? Join me on my personal journey to have a sunsafe summer and to feel secure in my pale skin full of scars. In this lookbook I show options to stay sunsafe this summer by wearing big floppy hats, creating shade with umbrellas, wearing long-sleeved swimsuits and other shade creating clothing. I show you my scars hoping it will influence other women to check their skin and prevent or detect skin cancer. This lookbook is my attempt to change people's perspective on sunsafe fashion and the importance of protecting and checking your skin! Every summer has a story. This year we will create a story which is as good but a little healthier for our skin…" Marije Kruis Founder of Spot the Dot (Spring 2016)
Impressions